Congress shall make no law respecting an establishment of religion or prohibiting the free exercise thereof, or abridging the freedom of speech or of the press, or the right of the people peaceably to assemble and to petition the government for a redress of grievances.

Amendment 1
After posting something once, I was told "Not everyone agrees with you." If the only reason to post on social media is to get lots of Likes, I guess we should just limit posts to things everyone agrees with like pictures of beautiful scenery, flowers, food, and pets. (Even though it might be surprising to know that not everyone agrees that cats are wonderful.)
Expressing an opinion about something is rather risky these days. Unless we are all so secure within our own echo chambers preaching to the choir, there will be people who will disagree with almost anything we might say. With the country so polarized, too often others disagree loudly and not very nicely. It can be tough to hear criticisms, accusations and negative labels.
Foundations of Freedom of Speech
Have Americans forgotten, or have too many not been taught, that the founding of our country and government was accomplished with much disagreement? Those great men who spent a hot summer writing our Constitution disagreed, constantly and strongly, about almost everything. That amazing document is the result of heated debate and compromise. Even after it was written, the debates and disagreement continued through the ratification process and beyond.
The founders realized that all needed to have a voice. That right was included in the Bill of Rights. Free Speech is a protection of the minority. The right to speak up and be heard enables minorities to let those in power know that not everyone agrees with what they do. It is a check on their power. Citizens are more likely to accept legislation that they do not agree with if they are allowed a voice in the process. We all need to feel protected from retaliation for expressing criticism of government policy or action or simply stating an unpopular opinion.
I do take exception to personal attacks. I doubt the framers' intent was to condone labeling, name calling, insulting, or condemning others, though the framers themselves flung a fair share of creative insults at each other. The sad reality is that such personal attacks are used most often by those attempting to silence others and deprive them of this constitutional right.
Non-Governmental Censors
The First Amendment restrains the government from restricting free speech, but we now see organizations and those wielding social influence exercising power to silence voices contrary to their preferred narratives. We have social media censorship, not to shield citizens from that which is profane or obscene, but from that which is not politically correct or the preferred position.
Sadly today we see people losing their reputations and often their livelihood because they said something contrary to the accepted narrative. The label of "hateful" is thrown about to silence and condemn those who disagree. This only results in more polarization and bad feelings.
From Social to Governmental?
The First Amendment constrains the government from silencing citizens through laws, but private corporations have some ability to be selective in what they allow on their platforms. That might not be a problem if they were unbiased, and allowed various views which adhered to established standards. It might not be a serious problem if they were clear and upfront about their actual bias, while still allowing contrasting views. It becomes a serious problem when contrary views are not allowed at all.
What is really alarming is the thought that if the political party whose positions media is biased toward, gains full control of the government. Will that in effect become government control of speech through complicit media? Laws restricting speech would not be necessary with social media monopolies allowing only the messages that one party wants to be heard.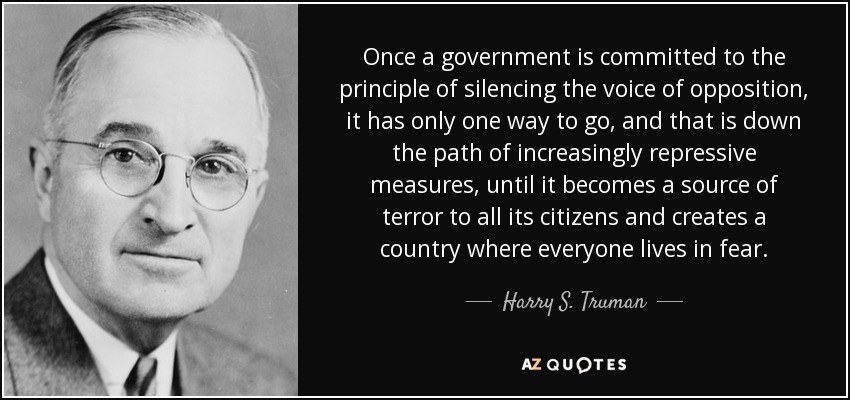 A Challenge
If you are brave enough to listen to voices you disagree with, you might find that your disagreement is not so much with the ideas or principles as it is with the expression of them. You might even find some common ground, something within the argument that you can agree with. You might actually gain some insight into a different perspective or an aspect of an issue that you were unaware of. You might begin to understand where someone else is coming from, why they happen to see things the way they do. It is very likely that you may still disagree, but there is hope that you might see their position as legitimate and view them as a person with value.
So I claim my right to speak my mind. I acknowledge the right of everyone else to do the same and to openly disagree with me. That is Okay. It is possible to disagree and still respect each other as people.