The Dream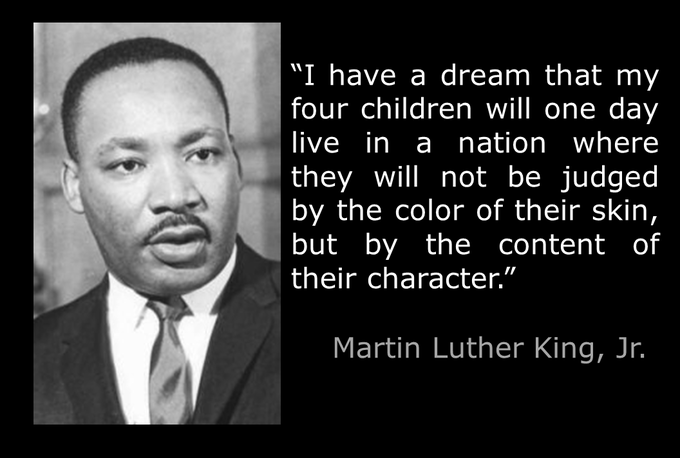 I share Martin Luther King's dream of people being judged by the content of their character rather than the color of their skin. Sadly, I have seen that in recent years we seem to be moving further away from that dream.
The dream is of a colorblind world where are all given equal opportunity, with character and skill and ability forming the basis of determinations of accomplishment.
A dream of a world where job applications, promotions, scholarship and University admissions are based solely on ability and objective qualifications.
A dream where we all see and treat each other as individuals with the same consideration and respect.
Sure things like gender, ethnicity, etc are a part of what makes a person unique, but they are not what a person is. If we can't get past those identity markers, we can not form real relationships with each other. In getting to know people and forming relationships, we come to see a person as a unique individual – we see their personality, character, strengths and weaknesses. Just as we would want to be known and treated well because of who we are, not what we are, we would treat others well.
The Privilege Pyramid based on Oppression Points
After I started writing this, I read an article by Matt Walsh where he describes "The Left's Victimization Flow Chart." White men are at the top, followed by white women, then non-whites, then various LGBTQ combinations. He explains leftist thinking as oppression can only go from the top down, with higher groups oppressing those lower down. It is impossible with this thinking for someone in a lower group to oppress someone in a group above.
One way to look at privilege and oppression is an inverse pyramid. The larger majority at the top have greater privilege and oppress the gradually smaller minorities toward the bottom. Those at the top – white males – are seen as the most privileged and the greatest oppressors. An inverse pyramid is top heavy – it looks oppressive.
What I see happening is that now that inverse privilege pyramid has been flipped. It now looks like a regular pyramid, with reversed privilege and oppression. "Priviledged" white men are now at the bottom, with non-white LGBTQ people at the peak.
This is because society now awards people "oppression points". Those acquiring the most have greater actual privilege in the way of political power and social influence. These greatly oppressed are able to claim victimhood to get what they want – things ordinary and even formerly privileged people must rely on their own efforts to obtain, or may not ever be able to have or do.
These at the top of this new Oppression Pyramid (formerly the bottom of the flow chart) are automatically believed and do not need any facts or evidence to back them up. Their "oppressed" status gives them freedom to pretty much say what they want. They can spew hate speech. They can claim discrimination and accuse others. They can ruin people's lives if they don't get what they want. The thinking is that they can't really "offend" anyone, because they are the most offended.
Conversely those who are considered "white privilege", especially rich white males, find themselves now on the bottom – the most despised, least believed and less able to use what had been considered advantages to their own or to society's benefit. Definitely judged by the color of their skin rather than the content of their character.
I don't think this is what Dr. King had in mind – the oppressed turned into oppressors.
Irony of Diversity
I find it ironic, baffling and disturbing that this is all occurring at a time when diversity has never been so great. The US is especially a nation of immigrants. We have neighbors from all nationalities and ethnic groups. We have intermingled and produced people with all kinds of ethnic and racial combinations. We have easily accessible DNA testing providing evidence of our multi-racial and multi-ethnic combinations. There are fewer and fewer people who can claim to be pure anything. We are almost all mongrels.
Why then, are we putting people into pigeonholes of identity based on characteristics that have become blurred? How hard has it become to accurately identify someone on first glance – by race, religion, or even gender? Yet, assumptions and actions are taken based on such superficial instant judgments.
Why do some people have a need to identify as an oppressed group? Why do some judge people, and others want to be judged, by the hyphenated part before American or the alphabet letter they choose? Wouldn't they rather be judged by their unique personality or character?
Why can't we just see each other as individuals with multi-faceted identities? Why can't we be a people who judge others based on their actions and the content of their character? It is the dream, after all.
Ominous Warning Signs
History provides some ominous warning signs. Looking back on the Holocaust, the Jews were initially targeted, not because of their oppressed position, but for their privilege. Rather, it was the perception of their privilege – having wealth and power and influence that they did not deserve. Resentment for their perceived privilege fueled and justified others oppressing them. Then having been stripped of all privilege they became totally oppressed.
The great communist regimes didn't target those lowest on the socio-economic ladder, though peasants eventually suffered greatly. The largest regimes were largely racially homogeneous populations, so race was not really a factor. Communists and Socialists targeted the privileged – the elite, the wealthy, the educated.
The presumed oppressed became the oppressors – or were used by those with some power seeking greater power to remove and destroy those previously having social and political power. The results were disastrous. The elite were destroyed, the poor remained poor and oppressed now by the government. But the newly elite party leaders enjoyed the spoils.
Our Choice
The challenge and choice for us in America is to find a way to recognize and accept differences without value judgments and accusations. We need to return to the principles upon which our government and country were founded. We all have the same God-given rights. Justice requires that we be judged by our actions, not our identity. Can we give up the competition for victimhood? Can we replace identity politics with justice and liberty for all?