How many books did you read this year?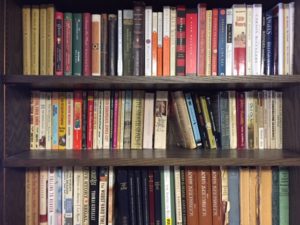 Disturbing Trend Number 1:
I have been disturbed and saddened to see data about how few people actually read books any more. It almost seems that if text won't fit onto a small screen or contain 150 characters or less, it is not worth the effort. This has been somewhat of a frustration with blogging. I wonder how many people actually take the two to five minutes to read through an entire blog post.
The media has figured this out, of course. They are expert at putting the main – and usually biased – message into explosive headlines. Then they hide critical countering facts or information way down in the article. They know that most "readers" scan the headlines, but won't read through an entire article, especially online. I find most of the "comments" on social media do not indicate that those commenting have really read the article. They are simply reacting to the headline.
So, if very few people are reading short news or human interest articles on social media, how many are reading real books – not necessarily just the physical paper kind, but digital as well?
Disturbing Trend Number 2:
There is a growing trend toward censoring and banning books – even classics written long ago – because they offend new found social sensibilities or don't conform to shifting standards or political correctness. This is really scary on many levels, some of which I will discuss below.
Disturbing Trend Number 3:
Many think that going to see a movie version is better than reading the book. Movies give us someone's visual, and often subjective interpretation of a book. It is somewhat disturbing that everyone who watches, passively accepts that particular interpretation, which may actually be very different than the author's original intent. Much of the original message often gets lost in the interpretation.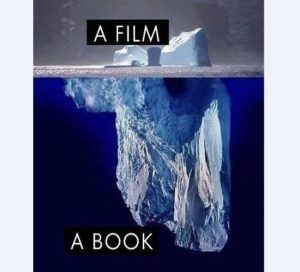 We like movies because they incorporate visual and sound along with a story. They are relatively short. We watch, then we leave and go on to some other activity. Some movies have an emotional impact which lingers with us, or might cause us to think for a while. But many movies are very forget-able. They serve their purpose as passive, short term entertainment.
The Case for Books:
There is something special about reading a book. Books take longer and involve more personal effort than watching movies. There is mental effort involved in interpreting symbols -words – on a page into thoughts, ideas and images. We need to understand the literal meaning of words for the writing to make sense, but there are deeper ideas and meanings which often require some more serious mental consideration.
Though it is possible to read some books in one setting – I have done that with a few short ones – most require taking breaks. We read for a while, then set the book down to do other things. But our mind does not always let it go. Often, especially with compelling narratives, I find myself thinking about the book while doing other activities. I mull over why characters did what they did and wonder what will they do next. I put myself in the place of characters and wonder how I might have handled situations differently. I try to figure out mysteries. I replay certain scenes in my mind trying to grasp all the details. My mind lingers in the setting of the book.
Often I look at maps in between reading to get a better idea of where the setting is and the proximity of other places mentioned. Sometimes I google to learn more about things featured in the book.
There is something magical about reading books by skilled authors. I think there are gifts in the use of words that some people have been given. These gifted people combine words in a way that can paint a visual picture in your mind of a place unfamiliar to you, yet it becomes familiar through the description. This allows us to see another place as real, even if it only exists in the imagination of the author.
Books also transport us through history. We all remember dry, boring history books simply stating facts. But a skilled author can place us in that setting, helping us feel what it might have been like to experience those events.
Good authors create or describe characters in a way that allows us to get to know them. We can visualize what they look like and how they move and interact with other. Good characters are like real people. They are complicated, basically good but flawed. Some we do not like, but can see their humanity and possibly what events and circumstances caused them to behave badly. Some characters become like friends or family. We see in them characteristics of those we know – maybe even ourselves. We become invested in their actions.
Good books are about good stories told in a compelling way. They do not simply entertain, they also teach. Through good stories we can learn things about human nature, about ourselves, about what things in life really matter. I think all good stories revolve around a basic conflict between good and evil – what life is really all about.
Why Reading Books Matters
People in our world today are increasingly living within "bubbles". There is a growing tendency to associate only with people who are like us – who think like us, believe like us, behave like us. This reinforces our world view as THE only, or at least THE CORRECT world view. Then those who have conflicting world views or beliefs become "others". They are not only looked down on as uninformed, unenlightened or wrong, but become seen as inherently bad, as enemies to "our truth", or even evil.
To be socially accepted, others must accept certain views and beliefs. If they don't, then we are free to criticize, ostracize, silence them, persecute and hate them. This is scary stuff. It leads to even scarier stuff. We we might see this coming if we have read books from and about the past which show this process.
Books can be an antidote to "bubble thinking". When we read a novel or well written history or biography, we have an opportunity to get outside our narrow world view. We see other perspectives. We get a sense of circumstances and influences of other times and places and cultures and can see the behavior of others in that context without judging them by our current standards. We get a peek into someone else's head, into ways of thinking that may be different than ours. We can then see different viewpoints as just different – not necessarily right or wrong.
We might even have to question and examine our own beliefs. One of the most important questions we can ever ask ourselves is "could I be wrong?"  We may eventually conclude that we are right after all, or at least feel secure in our view. But through this process, we might be able to see others as not totally wrong after all. We might see some truth in things we had not previously considered.
Reading books is a gateway to learning about things formerly foreign to us. Books allow us to experience places we might never be able to visit and return to some familiar ones. We can learn about occupations, hobbies, and activities that we have not personally experienced. We might be inspired to learn more about something because a book has peaked our interest.
I think reading good books makes us better people – more human and more compassionate. Reading can expand not only our imaginations and our intellect, but also our hearts.
A Challenge
So my challenge for 2019 is to read good books. If you have not read one for a while, just start. If you like to read, seek out some new books or re-read old favorites. Just read more. I will suggest some of my favorites in future posts – who knows, maybe even do book reviews. Let's see where 2019 will take us.