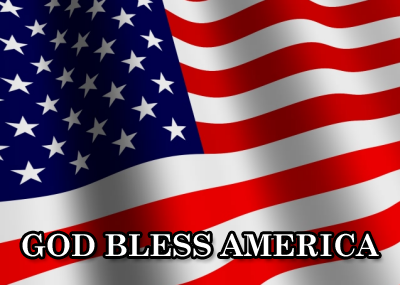 God Bless America! Is a familiar refrain. How often have we heard these words at the conclusion of public addresses. Has it become so common that we pay no more mind than it being a signal that the speech has finally come to an end? How much thought do we give to those words and the meaning behind them?
Remember
God played an central part in the formation of this Country. Any serious study of the American Revolution will leave one baffled that a rag-tag army of farmers and merchants managed to defeat the greatest military power in the world. Was it chance or luck? Was it because of superior intellect and skills among the colonists? Or is it obvious, as it is to me, that "God shed His grace" on them? They sought and recognized the hand of God in the events of that day. How could flawed mortal men begin to form a more perfect union without the guidance of a perfect God?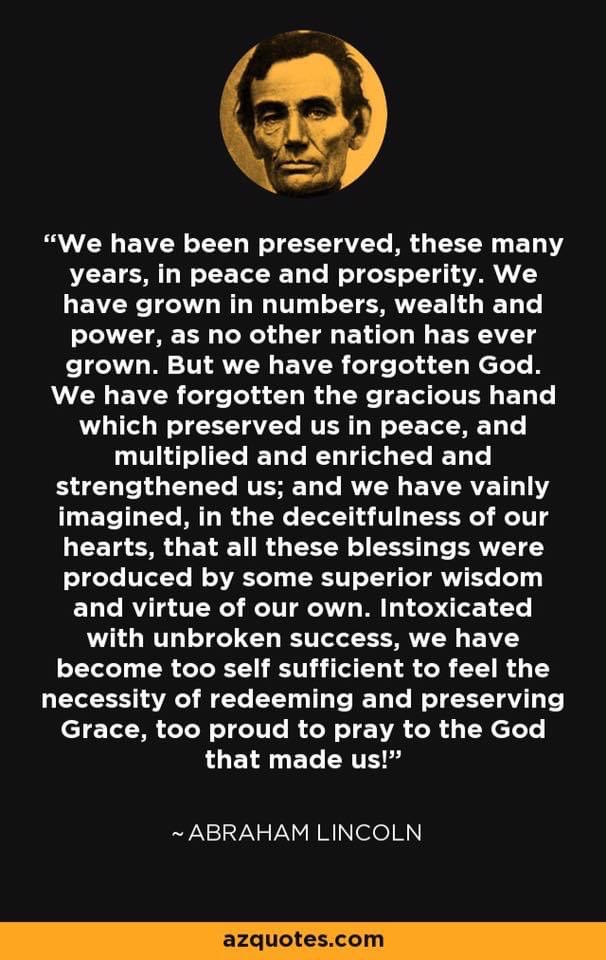 Putting God First
How arrogant to think that all of our prosperity is due to our own superiority, and our protection because of our great strength. Today we have those eager to point out faults and failings of those in our past, as if they would have done everything right in their place. We even have those who set themselves up as their own god, preaching "my truth" over His truths, and condemning those who don't agree with them.
Tolerance and acceptance are preached as supreme virtues. As important as love of neighbor is, we need to put the First Commandment first as was intended – "Thou shalt love the Lord thy God with all thy heart, and with all thy soul, and with all thy mind" (Matthew 22:37). We need to put God before all of the causes about which we are passionate and which too often divide us.
"If ye keep my commandments, ye shall prosper in the land" (2 Nephi 1:20) is still in force. We need to return to acknowledging and then keeping God's commandments above those woke social justice rules which have been replacing them. If we internalize and conform to God's commandments, there is little need for silly social rules. If people are truly good and motivated by love of God, they will love others and treat them well.
The Ways of God
If one knows a little about God and how God works among men, then it is easy to see in hindsight the upward progression of those who turn to God for assistance. God tends to work incrementally with his children, giving them "line upon line" and "precept upon precept" according to what they can understand and deal with at the time.
. . . by small and simple things are great things brought to pass; and small means in many instances doth confound the wise. And the Lord God doth work by means to bring about his great and eternal purposes; and by very small means the Lord doth confound the wise . . .

Amla 37:6-7
It is not surprising then, that the Constitution of the United States did not solve every social problem. Steps were required before people were ready for the abolition of slavery, just as small steps had lead the colonists to be prepared to declare independence from Great Britain.
It is not so much that God does not want us to have all freedoms and blessings immediately, as it is that men and women must be prepared to appreciate and use those freedoms and gifts. He allows us to struggle to learn, grow, and work together, blessing our efforts along the way, until we can look back and see that small things have worked together to become something great. Progress is cumulative, building upon small efforts to do good with God's help.
"Wherefore, be not weary in well-doing, for ye are laying the foundation of a great work. And out of small things proceedeth that which is great"

D & C 64:33
Patriotic Americans and great leaders have repeatedly pled "God Bless America". It is a prayer that should be on all our lips for we need God's blessings and grace now more than ever.