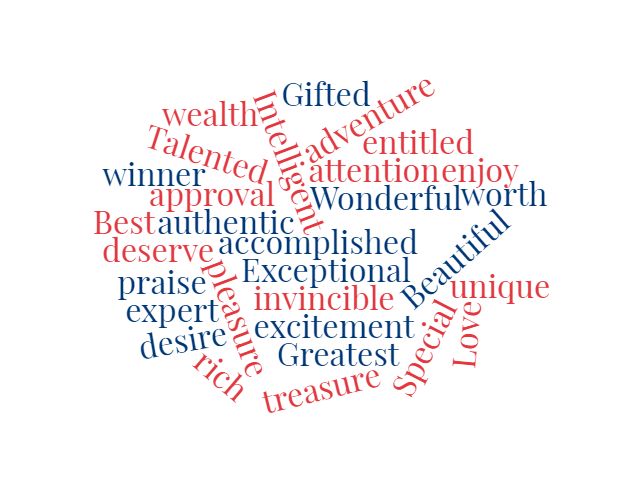 I have been intrigued by the phrase "flattering words" used frequently in the scriptures. It is usually in reference to the tactics of Satan.
What is Flattery?
Flattery involves saying nice things – giving attention or praise to someone. Definitions suggest it is untrue or insincere, excessive or exaggerated. The intent is to please others, win their favor or approval, or ingratiate them so they will feel that they owe you something or need to reciprocate. It may seem to be a good thing to make someone feel better through compliments or praise, but at the heart flattery is dishonest. There is something false about it.
The real intent is not to build up, but to influence. There is an underlying attempt to manipulate, to get someone to do something or encourage them to follow. It is seductive – we trust the flatterer, conform and follow to receive more. Flattery pretends to be our friend acting in our best interest, but in the end it is self-serving on behalf of the flatterer.
Flattery can use partial truth – stating something we already believe, preceded by a seductive "if" and followed by "then you will. . ." With all of the #MeToo attention lately about inappropriate behavior, it occurred to me that this is precisely how sexual predators work. The are expert in using flattering words. "You are special" "I can make you a star".
The real lie is not that we are inherently bad or worthless, rather than wonderful as the flatterer tells us. The lie is that doing the wrong things will bring us the approval, praise or attention that we seek.
Promoting Pleasure
What could be more flattering that encouragement to "Eat, drink, and be merry, for tomorrow we die; and it shall be well with us." 2 Nephi 28:7
I had an interesting conversation when the question was asked "If you knew the world would end tomorrow, what would you do with your last day today?" Many of the comments were about "bucket list items", like adventures, taking that last opportunity to some fun thing that they had always wanted to do. The flatterer would convince us that a fulfilled life is a life full of pleasure, and we would should not deny ourselves any enjoyable thing.
How self-centered to think that life should provide never ending opportunities for our entertainment and enjoyment. Never mind that many of those things which are presented as "pleasurable" come with some rather painful and unpleasant consequences. The flattery also comes with the promise that there will be no negative consequences.
Which leads to the next flattery . . .
. . . When God is inserted into flattering words."God loves all his children just the way they are and wants them to be happy" so therefore whatever makes one happy is good, approved by God and should be encouraged. This is the kind of flattery which would cause parents to think they were good parents for allowing their children a steady diet of sugar, no schedule for sleep, meals or anything, and fully encourage dangerous play.
Preventing Accountability
As Satan flattered Cain with the idea that he could kill and have his brother's flocks and no one would know, he flatters us that our sins, flaws and mistakes can be secret. Flattery also tries to convince us that we can do whatever we want and nothing bad will happen, results will always be in our favor.
Nehor, in the Book of Mormon used these very flattering words to lead the people astray: "all mankind should be saved at the last day, and that they need not fear nor tremble, but that they might lift up their heads and rejoice; for the Lord had created all men, and had also redeemed all men; and, in the end, all men should have eternal life." (Alma 1:4)
One of Satan's strategies to destroy agency is to remove accountability. The flattery is that we can do whatever we want without negative consequences. We can have pleasure without pain.
Pride & Popularity
Flattery plays to human vanity – the fault of pride. We all want to feel that we are okay. We love to hear "you are wonderful", "you are beautiful".
We are told to tell ourselves affirmations – to "Love yourself", "celebrate your uniqueness".  It is true that many of us have tendencies toward constant self-criticism and positive affirmations help counter that, however both can be manifestations of an unhealthy focus on self. When we don't feel good about ourselves, we are especially vulnerable to flattering words, as if hearing from someone else that we are wonderful will make it so.
Pride really desires to feel that we are more than okay, that we are somehow better than others. "It is all about me." Flattery feeds the comparisons of pride – to be smarter, more beautiful, more accomplished, more successful than others. It makes us feel that we are more than we know we actually are. But we want to believe that others think more of us, so we eat it up.
This kind of flattery prevents any real improvement. If we are okay – or more than okay – there is no need for change or progress. Add to that the flattery that rather than change yourself, everyone else should have to adjust to accommodate you, because you are perfect the way you are.
Pursuing Power
Connected to pride is the pursuit of power. If you are convinced of your superiority – you are smarter or better than others – you naturally should have power over other inferiors. Control, dominion and compulsions follow. Flattery convinces those with power that they are deserving and it is okay to use that power for their selfish desires rather than any sense of responsibility for the welfare of others.
Flattery lead to thinking that you are your own god. You are the supreme authority over self, and therefore not subject to restrictive rules or authority.
False Prosperity -Wealth Without Work
Connected to a lack of accountability is the flattering idea of gaining wealth without work. Lotteries make huge amounts of money by flattering us that we could become rich – and think that we should be rich. Pride causes us to compare with others and to envy and covet.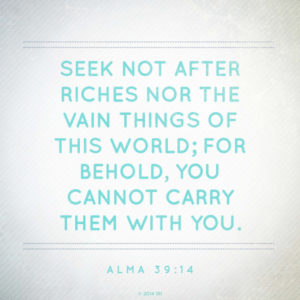 Such flattery leads people to seek the "vain things of the world" or "treasures" that really have no lasting worth. I find it interesting that "vain and foolish" are paired together so much in scripture.
Flattery about worldly wealth encourages dishonesty and deceitfulness – lies that ends justify means. Flattery feeds entitlement, the idea that you have some "right" to have anything you want and that you deserve any good thing that anyone else has. Flattering words fuel socialism – the promises of "free" things without mention of the real cost of loss of freedom.
Precepts of Men
The flattery here is in our own wisdom, or the pleasing philosophies of men. The result is in effect setting up things like science, "learned" experts, or even ourselves as god. We can create our "own truth" rather than acknowledge actual truth. We then can feel "authentic" when living by our self-defined reality. "Be true to yourself" is really code for "embrace your natural man". Flattery convinces us that the natural man is our authentic self and should be embraced and affirmed rather than overcome.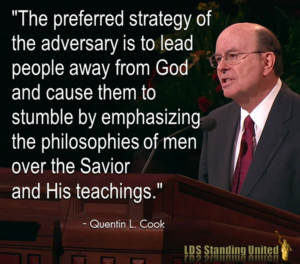 All flattery is a tool of the adversary to shift our focus to ourselves, to the "vain things of the world" which bring no lasting happiness, and to draw us away from God, the source of all that is good.