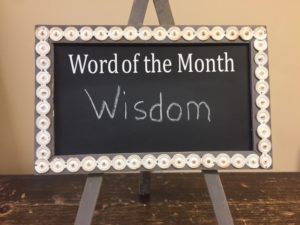 This world is so badly in need of wise men and women. My study of King Solomon for a Sunday School lesson led to much pondering about wisdom – what it is, how to acquire it, and the mystery about the lack of wisdom in our world.
Solomon's wisdom was a gift from God. God's love is unconditional, but His gifts come with conditions. To have a gift of the spirit, one must be in a position to be sensitive and receptive to the spirit. Solomon's gift came with several "ifs", cautioning that he would lose it if he turned from God and from following His laws.
What is Wisdom?
Dictionary definitions of wisdom include learning & knowledge, but wisdom is in the use of knowledge – the power of judging rightly and following the soundest course of action. Wisdom begins with intellect, learning and knowledge, but builds on that with understanding and insight. It can come through experience as well as study, yet some may have vast experience yet still not get it.
Wisdom requires discernment – the ability to discern truth from error, for real wisdom is based on truth. It also involves the ability to know what things are of most importance and lasting value.
Solomon himself wrote many wise Proverbs (see Proverbs 1-9), but his wisdom was not purely intellectual. True wisdom is reflected in action.
Wisdom differs from being clever or cunning (see 3 Nephi 21:10), because those tend to be deceptive and self-serving. Wisdom is honest and true and benefits all.
Foolish and Vain
Frequently in the scriptures I see the terms "foolish and vain" paired together. (See Romans 1:21; Titus 3:9; 2 Nephi 28 ; Alma 39:11; Helaman 12:4; Helaman 16:22;  We think of foolishness as the opposite of wisdom. Why is "vain" paired with foolish? What is foolish about vanity or vain things?
We think of vanity as being proud and self-serving. A vain person is conceited with an excessively and possibly unrealistic regard for self. There is something false or deceitful about vanity.
Definitions of vain also include things of no real value or significance, things lacking substance, anything empty, worthless, fruitless. Things that have an appearance of value or desirability, but no real substance. You might think of vain as a pretty puffed up outer shell that is hollow within.
In this sense the two definitions actually merge, as someone who is vain in the sense of being proud actually may have no real depth of character under a boastful exterior. The vain are all show with little substance.
There is vanity in thinking you are wise. Thinking one knows and understands already leads to pride and a resistance to learning, especially from the source of true wisdom. (
O that cunning plan of the evil one! O the vainness, and the frailties, and the foolishness of men! When they are learned they think they are wise, and they hearken not unto the counsel of God, for they set it aside, supposing they know of themselves, wherefore, their wisdom is foolishness and it profiteth them not. And they shall perish. (2 Nephi 9:28; see also Proverbs 3:5-7)
Wise Judgement
To be vain is foolish – to put undue importance on things of little significance. Scriptures point out the opposite "plain and precious" indicating that things of most value are more plain than flashy. Wisdom can discern between things of lasting value and those of little worth and make judgments and decisions based on those most worthwhile.
Just as it is foolish to choose or pursue vain things, it is also foolish to base judgement on things of no real value. What could be more foolish than spending a lifetime acquiring stuff, having fun and seeking people's approval? Yet, such superficial and insignificant, though outwardly appearing fashionable or popular trends are what much of the world bases judgement on.
Wise judgement is based on sound principles and unchanging truth. It requires an understanding of truth. It is based on standards that have stood through time and have been tested and proven.
The Mystery/Paradox
The Apostle Paul contrasted the wisdom of the world with the wisdom of God.
And my speech and my preaching was not with enticing words of man's wisdom, but in demonstration of the Spirit and of power:
That your faith should not stand in the wisdom of men, but in the power of God.
Howbeit we speak wisdom among them that are perfect: yet not the wisdom of this world, nor of the princes of this world, that come to nought:
But we speak the wisdom of God in a mystery, even the hidden wisdom, which God ordained before the world unto our glory: (1 Corinthians 2:4-7; see also 1 Corinthians 1:20-31)
The wisdom of the world is really foolish and vain. Those who are wise in their own eyes are really fools. Fools mock. The world mocks faith in God as foolishness, yet the wisdom of the world is based on vain things, and is really foolish.
The path to true wisdom is the plain and precious truths of the gospel and the Spirit which enlightens understanding. The simple and pure faith in Christ, which the world considers silly or foolish, is really the path to true wisdom. This is the great paradox.
U.S. Supreme Court Justice Antonin Scalia, a wise judge, put it this way:
"God assumed from the beginning that the wise of the world would view Christians as fools . . . and He has not been disappointed. Devout Christians are destined to be regarded as fools in modern society. We are fools for Christ's sake. We must pray for courage to endure the scorn of the sophisticated world. If I have brought any message today, it is this: Have the courage to have your wisdom regarded as stupidity. Be fools for Christ. And have the courage to suffer the contempt of the sophisticated world."
Where to Find Wisdom
The greatest wisdom comes from the source of all wisdom. James advised "If any of you lack wisdom, let him ask of God" (James 1:5)
Gordon B. Hinckley said:
We need not look far in the world to know that "the wisdom of the wise has perished and that the understanding of the prudent has come to naught." That wisdom for which the would should seek is the wisdom which comes from God. The only understanding that will save the world is divine understanding. (Teachings of Gordon B. Hinckley, 500)
O be wise; what can I say more?