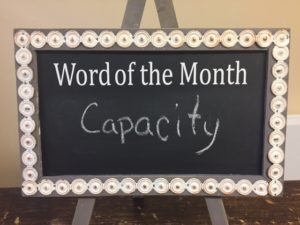 Capacity is a word that keeps jumping out at me recently. Shopping for appliances, I heard much about "capacity." Often capacity is viewed in terms of quantity – the amount of space which can be filled or contain something. The implication is that more or larger is better. When talking about human capacities, whether that be mental, physical, emotional or spiritual, we are usually thinking about abilities or potential.
Human Capacities
Physical capacity usually involves strength, endurance, and stamina. Some people are able to physically do more or for longer because of greater physical capacity.
Mental capacity is what is referred to as the power of receiving and holding knowledge – the ability to comprehend, reason, to learn and understand.
Emotional capacity is something we don't think much about, but I think it is real. I recently heard someone comment about another's "capacity for chaos". Some people seem to be able to handle stress, adapt to changes or deal with upsetting situations better than others. Some have greater capacity for self-reliance. We look to first responders and leaders for such capacity in dealing with emergencies.
Spiritual Capacity is about the potential of our souls to develop and expand and progress. Our goal may be described as "enlightenment" or becoming more Christlike – more loving, understanding and giving.