Five lessons about Charity that I have learned through life and study: what it is, what it is not, how to obtain it, and why it is so critical.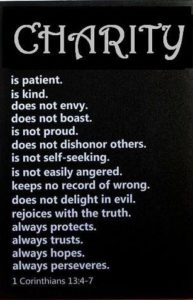 Many years ago I made a serious study of charity. I gave some talks and presentations on the subject and wrote about it. I even entertained thoughts that there might be a book to be written on the subject. At that time, I thought I had some insight into charity, but as time and life continued I realized my shortcomings in living the principle. Through some experiences I have had more recently, I think I am beginning to have a better understanding of charity. Though I am sure I have much more to learn, I will share a few lessons.
Five Lessons I have learned about Charity:
1. Charity is not something you do – or don't do.
We are all familiar with the Apostle Paul's discourse on Charity in 1 Corinthians 13:4-7
Charity suffereth long, and is kind; charity envieth not; charity vaunteth not itself, is not puffed up, Doth not behave itself unseemly, seeketh not her own, is not easily provoked, thinketh no evil; Rejoiceth not in iniquity, but rejoiceth in the truth; Beareth all things, believeth all things, hopeth all things, endureth all things.
This is given as a description of charity, not as a checklist. Too many of us read this and get frustrated as we try to do all of these things and fall short.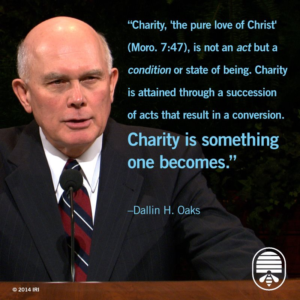 Though we use the word charity to refer to giving service or money to worthy causes, charity is not just about giving. It has more to do with intent and motivation than actual acts. As Dallin H. Oaks taught, there can be several motivations for service. Intentions can be as selfish as self-promotion or to get something in return or as selfless as pure love and compassion for others. Charity is the best and highest motivation for service. (Dallin H. Oaks, Why Do We Serve?) The best of good works done with lesser motives are like "sounding brass, or a tinkling cymbal." (1 Corinthians 13:1)
2. Charity is the pure love of Christ. He is the source.
Charity is defined as the "pure love of Christ" (Moroni 7:47). Charity is the ability to love others as God loves them. It involves being able to see them as beloved children of God and therefore treat them accordingly. Charity puts the well being of others above our own interests.
This love must be received before it can be shared with others. With this love from God, we are able to pass His love on to others.
3. Charity is a natural outgrowth of righteous living.
Paul taught that "The fruit of the Spirit is love, joy, peace, longsuffering, gentleness, goodness, faith, meekness, temperance." (Galatians 5:22-23) Charity is a gift of the Spirit. It is not surprising that this description is very similar to Paul's description of Charity.
Mormon admonished us to "pray unto the Father with all the energy of heart, that ye may be filled with this love, which he hath bestowed upon all who are true followers of his Son, Jesus Christ" (Moroni 7:48 ) We develop charity, not by trying to do good things, but by first loving God and developing a relationship of faith with him, then repenting of all that is uncharitable. Charity develops within us as we follow Christ's example and seek to become more like Him.
This is a process. We may have more charity at some times than at others. I have observed that during times when I tend to get irritated, impatient and angry with others, things are not right with me. I am not being honest with myself about my own faults. At such times I easily take offense. When I repent and deal with my personal issues, I naturally begin to feel more compassionate and understanding of others.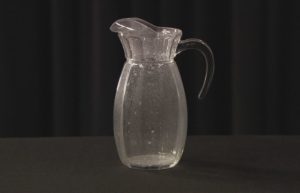 I recently heard a talk by Neill F. Marriott, in which she used the analogy of herself as a pitcher, with a reference to the concept of "cleansing the inner vessel" (see Alma 60:23). She pointed out that our sins and pride create a breach between us and the love of God. She said:
"We want to be encircled in the arms of our Heavenly Father's love and guidance, and so we put His will first and with a broken heart plead that Christ will pour streams of cleansing water into our pitcher. At first it may come drop by drop, but as we seek, ask, and obey, it will come abundantly. This living water will begin to fill us, and brimming with His love, we can tip the pitcher of our soul and share its contents with others who thirst for healing, hope, and belonging. As our inner pitcher becomes clean, our earthly relationships begin to heal."
4. Charity is not selective.
Because charity is a quality within us, it results in feelings of good will toward all people, not just the select few that we have close relationships with. People often quote the scripture in 1 Corinthians at weddings as an example of the kind of love married couples should share. We may have strong emotions and the best desires for those we "love", while still harboring negative feelings toward others. When we have charity, we not only love our loved ones better, but also all those around us.
Charity makes it possible even to "love our enemies" (Matthew 5:43-44) and do good to those who treat us badly. It is the spirit with which we are able to forgive those who have hurt us. We may not necessarily "like" everyone or approve of their actions, but when we have charity we lack feelings of animosity, malice or contempt.
5. Charity is our only hope.
Charity is the hope for families to be healthy and loving and raise children who are loving and accepting. It is the only hope for people with different backgrounds, beliefs and ideas to be able to get along. Charity is the only way to conquer hate. It is also the only hope for peace.
Unfortunately we live in a world of divisions, with roots in general unrighteousness. "Tolerance" is the word tossed around, but often with contempt toward those who are not seen to be accepting of certain behavior. Accusations of hate are made from all sides, which is certainly not charitable.
Charity was the way the disciples of Christ had all things in common and lived in unity for a time after His resurrection. It was also the way that people were able to live in peace for hundreds of years after Christ visited them on the American continent. This will be the way that peace will be enjoyed during the millennium.
Charity has to start with individual hearts. We each have to start with our own. More hearts filled with this love touching other hearts might make a difference.