I started out this Christmas Season with great intentions. I even tried to start early with a little shopping, preparing Christmas cards and neighbor gifts before the end of November. I started December by attending a wonderful Christmas Social which got me in the spirit. Our family visited Temple Square in Salt Lake City and enjoyed the lights. I found the book Jacob T. Marley which I read quickly and then re-read A Christmas Carol.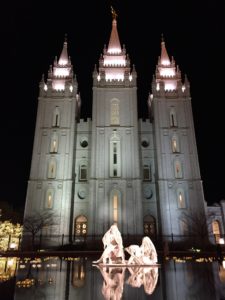 The Church of Jesus Christ of Latter-day Saints presented a program for December #LIGHTtheWORLD, with daily suggestions for service following the example of Jesus Christ. This sounded like a great and organized way to focus service efforts during the season.
Then everything changed with a family crisis which was very consuming of time, energy, and emotion. I was glad that I had done what I had already, but still there was much to do, and finding time for extra service or even to keep track of what the focus was each day seemed unlikely.
At church on December 18, members were given an opportunity to share experiences with acts of service given and received as part of this Light the World initiative. I was feeling a little guilty for not doing specific purposefully planned acts. Then after some reflection on my month, I have been able to focus on what things I have done. So often we provide seemingly small and insignificant acts of service, but actually in the spirit of what this Light the Word initiative intended.
Amid my busyness I managed to gather and donate some food for a local food pantry. I put money in a Salvation Army kettle. I had donated some money for Wreaths Across America even though I was unable to attend to place them.
I enjoyed some dinners with family members visiting from far away. I participated in a family wedding. I was able to have good visits with several friends, one who was unexpectedly hospitalized and a couple who were recently widowed. I felt compassion and prayed for many dear friends and family members who are having difficult times.
I mention these things not to brag or seek credit, but rather to keep from beating myself up for not doing more or greater things or the specific kinds of service on the corresponding days. I realize that the intent of Light the World was really to help us to become more aware and sensitive to the needs of others – to get outside ourselves and reach out in compassion as the Savior did. It was not presented to engender guilt or to add more things to our to do lists. There are no score cards, points given or awards for achievement. The ultimate goal is to become more Christ-like. Focusing on serving as He did at Christmastime is only a beginning. I hope I can keep this focus as I begin a new year.